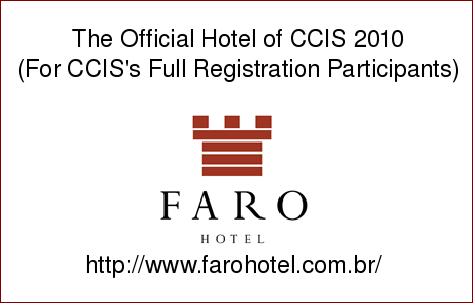 If you are a Full Registered participant, do not contact the Official Hotel directly. Your hotel reservation is automatically done by CCIS Local Org. Committee (LOC) after your pre-registration. Complete information about this will send to you by e-mail.

If you are a Partial Registered Participant, you are responsible for making your own hotel reservation. Informations on alternative hotels (location and rates) should be resquested to LOC: ccis@epacis.org.

Free Shuttle service from Hotel to INPE and vice-versa, is only provided to FARO HOTEL (the official automatic housing block for FULL modality attendees registration). If you stay in an alternative hotel, you should arrange for alternate transportation.